With the development of cryptocurrency and blockchain technology, there comes from it several innovative products aside from just NFTs. There are several things you can buy, and that includes domain names. Some people also refer to decentralized domain names as blockchain domains.
In this post, I will teach you how to buy a decentralized domain name from UnstoppableDomains.com. Don't worry, it's quicker and much simpler than the process of purchasing a traditional domain name.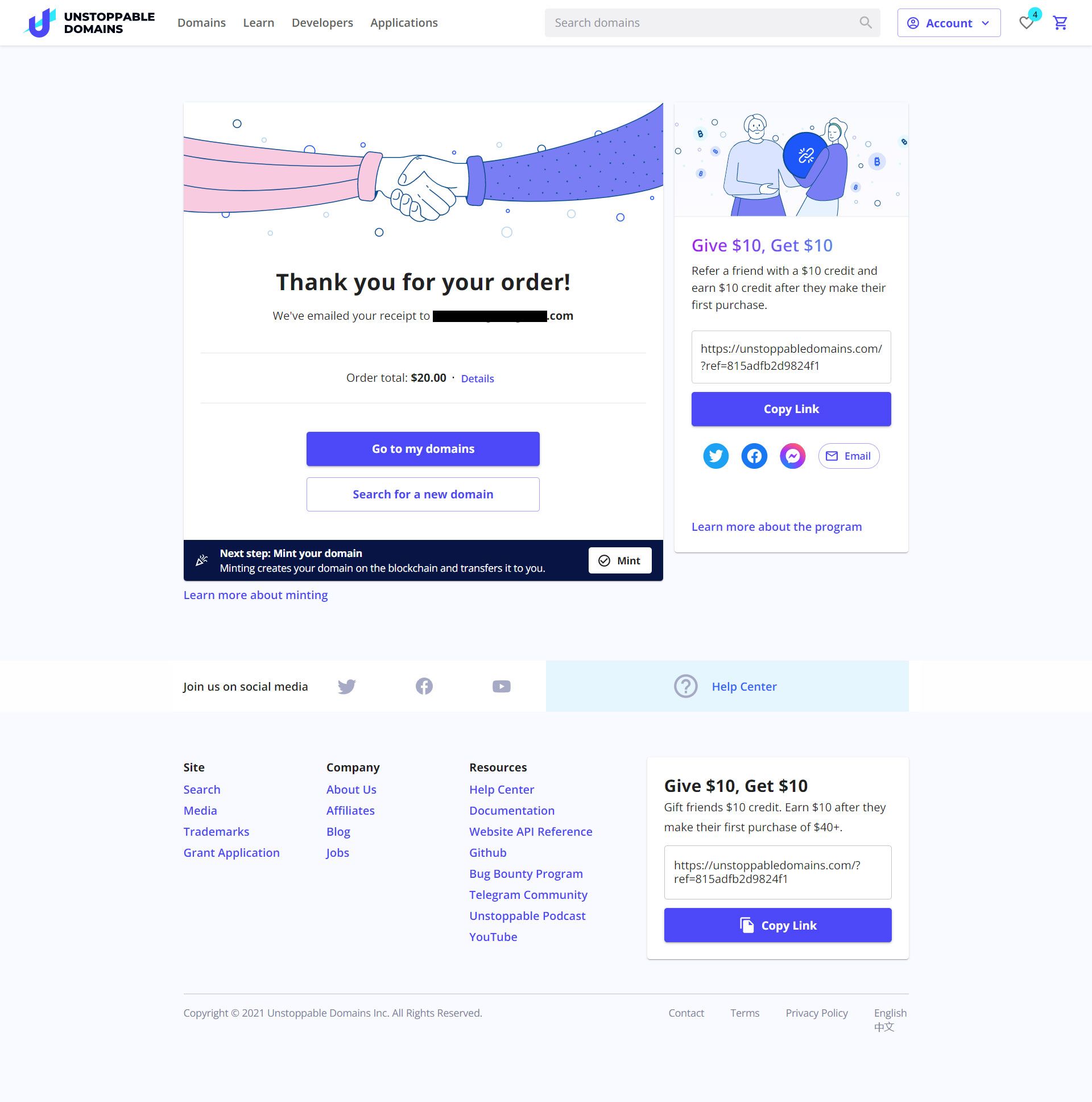 What Is A Decentralized Domain Name?
A decentralized domain name is a domain name that lives on the blockchain.
What Are The Differences Between A Domain Name And A Decentralized Domain Name?
A traditional domain name is owned or controlled by a singular entity, such as a business or corporation. What this means is they can potentially take down your domain name for whatever legal reasons aka censorship.
With a decentralized domain name, you eliminate the risk of the domain name being taken down by a singular entity thanks to the benefits of blockchain technology. You have the ability to truly own that domain name. Not only that, you don't have to pay a annual fee to own the domain name!
Do You Need Crypto To Buy A Decentralized Domain Name?
You do not need cryptocurrency to buy a decentralized domain name; however, you can pay with cryptocurrency if you want to. That is completely up to you.
Where Can I Buy Decentralized Domain Names From?
There are several websites where you can go and buy a decentralized domain name from, but the one I recommend is UnstoppableDomains.com since they're the first ones who started this so they have a lot of experience, credibility, and popularity.
What Decentralized Domain Name Extensions Can I Get on UnstoppableDomains.com?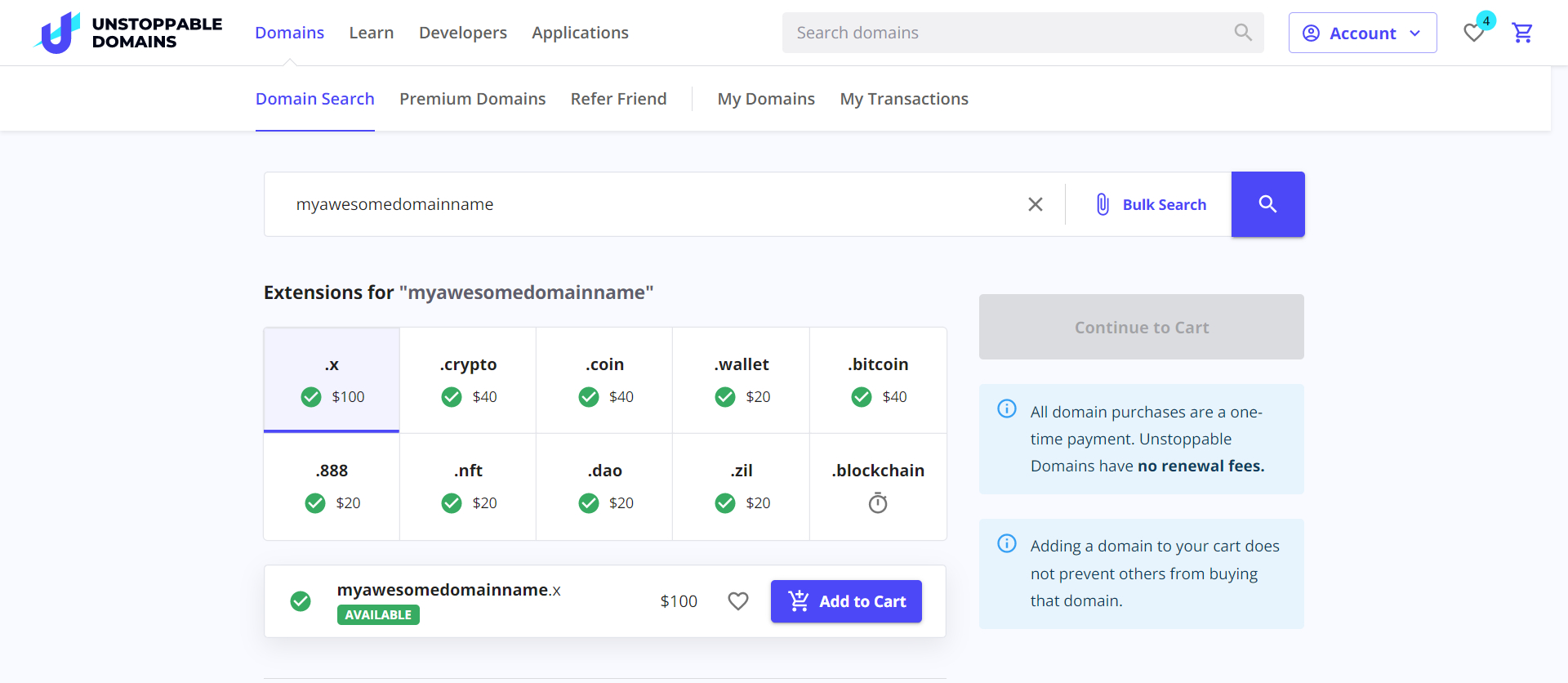 Currently, there are 10 decentralized domain name extensions you can get and they are:
.x
.crypto
.coin
.wallet
.bitcoin
.888
.nft
.dao
.zil
.blockchain
NOTE - Public companies and certain brand names have their decentralized domain names protected so don't get any funny ideas on trying to buy their decentralized domain names, because you can't. You'll see a shield icon in the search results for those that are protected.
How To Buy A Decentralized Domain Name On UnstoppableDomains.com?
Things you will need in order to buy a decentralized domain name on UnstoppableDomains.com include the following:
Money (Credit Card, Cryptocurrency, PayPal, Crypto.com App)
Decentralized Domain Name
Go to UnstoppableDomains.com and create an account. It's free! You just need an email address and a password. Don't forget to click on that verification link they send to your email.
Go to their search bar or to https://unstoppabledomains.com/search and you can start typing in the decentralized domain name that you want. You can save it to your favorites or add it to your cart. In this case, I'm assuming you want to buy a decentralized domain name so click the "Add to Cart" button.
Once you've done that, click on the cart icon located on the top right of the screen or if you're still on the search results page, click on "Continue to Cart".
Next, answer the question on whether or not you live in the USA. Enter your zip code. Then click on the "Checkout" button.
Lastly, choose your payment method and enter in your payment information. Once you've done that, click "Submit Payment".
Congratulations! You've successfully purchased a decentralized domain name on UnstoppableDomains.com. Easy, right?