I know your pain. You're trying to find that one high quality photo for your blog, website, or online store, but the problem is the right one costs money. Worst of all, it is outside of your budget because financially speaking, that money has to be budgeted towards something else more important than a photo that's going to be used probably only one time. Perhaps, you probably did find the right image that doesn't require paying for, but sadly is not available for commercial use or is just copyrighted. Well, the solution to your problem are free stock photos or free royalty free images for commercial use.
What Are Stock Photos?
Stock photos are basically another way of saying stock images. Stock photos are basically placeholder images or you can think of them as images for generic placeholder usage for a variety of applications (e.g. blog, website, store, etc.)
Although there are plenty of stock photos out there, most of the good ones are paid, while few are free for commercial use.
What Types of Open Source Copyrights Are There?
There are several types of creative commons copyrights out there. Here's a chart by CreativeCommons.org which basically summarizes the symbols usage and rights: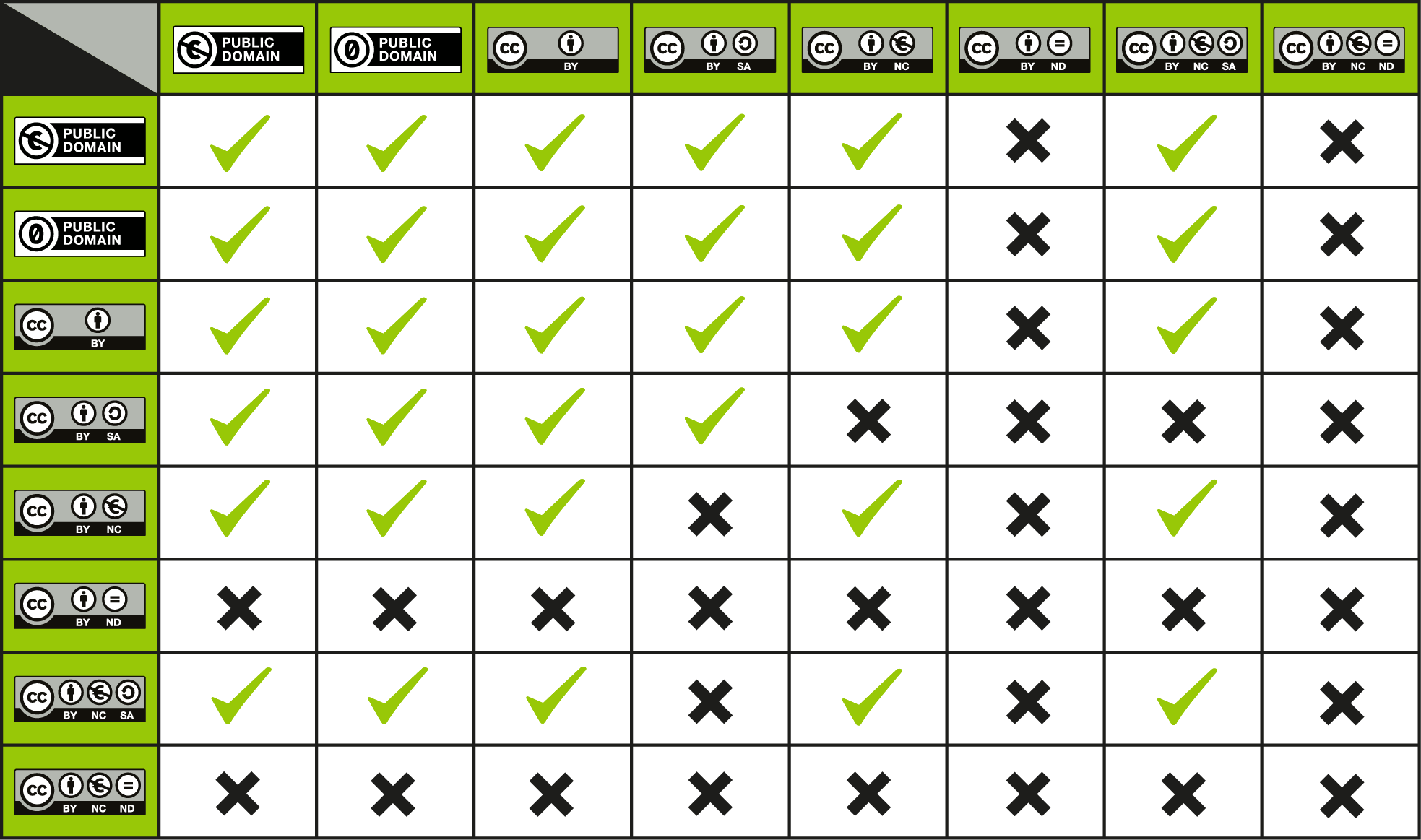 To learn more about CreativeCommons, you can read this article: https://creativecommons.org/faq/
The TL;DR is look for C0 copyright images. This one basically means you don't have to give credit, can modify the image, and use it for commercial use. It's the one that provides the maximum amount of freedom!
To make your life easier, here's a list here of what I think are great FREE stock photos that you can use for your website. Make sure you double check that they can be used for commercial usage.
NOTE - I will do my best to update this list over time, so be sure bookmark this page for your future reference!
The Ultimate List of Free Stock Photos
I made sure to list them in alphabetical order for your convenience :).
4FreePhotos
http://www.4freephotos.com/
4FreePhotos offers a variety of beautiful pictures, ranging from close-up shots to stock images of objects shot from a far distance. It has some of that realism feel without that photoshopped fakeness to it. It's a great source if you want something simple and to do point.
Albumarium
Albumarium has a stash of beautifully shot photos with some creative angles and vibrant colors and contrast to it. They offer a variety of categories for you to choose from (e.g. nature, city life, kids, birds, fruit, etc.)
Burst
Burst is a free stock photo site where you can find high quality images. In fact, did you know that Burst is actually managed by Shopify? For those of you who don't know, Shopify is a user-friendly ecommerce platform for people who wants to start a ecommerce store online without much technical know-how.
cc0.photo
cc0Photo is another site where you can find nicely categorized public domain photos thanks to their use of Wordpress categories, which makes finding images related to certain themes or topics a lot easier! One thing that cc0.photo does that is unique unlike other stock photo sites out there, is they even provide a color palette based on the individual photo. This helps especially for those who are into graphic design or someone who is just in search of that right shade of colors for their design project.
CMYKBrand
http://www.photocrops.com/
Once known as Photocrops, they offer a list of free stock photography, but what makes them unique is the fact that they also provide free drone shot videos!
Cupcake
http://cupcake.nilssonlee.se/
Cupcake is another great royalty free free stock photo site where you can download high quality images. In terms of quality, I personally prefer this site's photos over cc0.photo since they seem more modern and professionally shot style to them. The photos found here are cc0.
DeathToTheStockPhoto
http://deathtothestockphoto.com/
DeathToTheStockPhoto takes a somewhat unique approach to distributing high quality free royalty free images to people like you and me. They offer both free and premium images based on certain plans. I personally love this website. I only use their free plan.
It's simple. You just visit their website. Find the button for free, and just signup to their email list. They will then randomly send you a pack of free royalty free stock photos which you can then download via the link on their site. They're usually bundled together in a zip file in a theme.
You can gain access to more of their stock photos by paying for their premium plan which I have not tried.
DesignersPics
http://www.designerspics.com/
A lot of the pictures I see are usually a single theme or subject focused somewhat up close.
FindAPhoto
http://finda.photo/
Search through thousands of cc0 free photos to choose from!
FoodieFactor
https://foodiefactor.com/
FoodieFactor is a stock photography site that contains a bunch of food themed photos. This is a great place to look at if you want to grab some pictures of nicely shot food photos. Same goes for the next link!
FoodiesFeed
https://www.foodiesfeed.com/
FoodiesFeed is another great stock photography site where you can download royalty free photos. However, what makes this unique - you guessed it - it revolves around food-themed photos!
FreeNatureStock
http://freenaturestock.com/
Just as the name of the site, they basically provide free nature stock photos for you to choose from!
FreeRangeStock
https://freerangestock.com
FreeRangeStock offers a variety of free stock photography photos for you to use that are CC0. What makes this site a little bit more unique is that they also have contributions from not just photographers from around the world, but they also have a team of in-house photographers that help contribute to their archive of free stock photos.
Gratisography
https://gratisography.com/
Gratisography is another popular site for free stock photos, although, in my opinion, they don't have as much of a selection (quantity wise). But hey, they recently improved their website's UI design! Now I can find the search button with ease. Good job!
GoodStock.Photos
https://goodstock.photos/
Not as popular as the rest, but they do have a lot of pictures of people and places. However, there are over 1000 images to choose from!
ImFree (ImCreator)
http://imcreator.com/free
ImFree offers a variety of curated free stock content primarily targeted towards web designers. They even have icons to download and some free web designs too!
ISO Republic
https://isorepublic.com/
Another well known free stock photography website with a variety of photos from different categories to choose from.
JayMantri
https://jaymantri.com/
cc0 free stock photos by Jay Mantri.
Kaboompics
https://kaboompics.com/
Kaboompics is another amazing stock photography site. They take advantage of grouping photos together shot at the same location in a variety of ways. They even give a descriptive label for the package (e.g. CLIFF ON THE WESTERN SEABOARD OF ALGARVE, PRAIA DA AMOREIRA, PORTUGAL).
Libreshot
https://libreshot.com/
Find a list of cc0 free royalty free stock photography shot by Martin Vorel.
LifeOfPix
https://www.lifeofpix.com
Another stock photo site that offers free stock photos for people to use updated on a weekly basis. They can be used for personal or commercial usage. They do have a video section, but I wasn't able to find a corresponding download button though, but the videos are hosted on the Vimeo platform.
LittleVisuals
http://littlevisuals.co/
LittleVisuals is a site created by Nic, who unfortunately, has passed away. However, his family is keeping his site alive and maintaining it so feel free to check out what Nic has to offer!
Magdeleine
https://magdeleine.co/
A nice collection of high resolution modern stock photography to choose from. They upload new photos every single day! Now that's hustle.
MMT
https://mmtstock.com/
Find a list of free stock photos and free stock videos to use in your creative project.
NegativeSpace
http://negativespace.co/
Another great site to check out is NegativeSpace. They offer high quality photos and each entry is tagged, which makes their search a little better.
Pexels
https://www.pexels.com/
You probably heard of Pexels as it too, is another very popular stock photography website.
Photocrops
Is now rebranded as CMYKBrands.
PhotoStockEditor
https://photostockeditor.com/
PhotoStockEditor is another neat site to look at when searching for free stock photography that's available for commercial use. They contain photos in the categories of animal, nature, technology, people, and food.
PicJumbo
https://picjumbo.com/
PicJumbo is another well known site for royalty free free stock photography to choose from.
Picography
http://picography.co/
Beautiful stock photography of nature and places in the cities. I'm not too sure how to describe it, but check it out, and see for yourself!
Pikwizard
https://pikwizard.com
Pikwizard is the latest addition to the stock photography family. It holds over 100,000 high-quality images, with 20,000 completely exclusive to Pikwizard. It prides itself on its images of people, which are few and far between on stock photography websites. There is also no attribution required on any of the images
Pixabay
https://pixabay.com/
A very popular site where you can find a collection of high quality new cc0 pictures to choose from!
PublicDomainImages by DesignRush
https://www.designrush.com/resources/publicdomainarchive/
You can find some free stock photography at PublicDomainImages, which is provided by the business DesignRush. There aren't a lot in their collection compared to most sites listed on this page, but it's nice to have an extra free stock photo website just in case! Based on some research, the inspiration behind the creation of PublicDomainImages was by a husband/wife couple, specifically the husband, who wanted to have a central collection of all the public images out there, and this was the result of his side project.
Resplashed
http://resplashed.com/
Find a nice variety of stock photos here. As of the creation of this post, there has been 1162 high resolution photos on their site.
Shutteroo
http://shutteroo.com/
Free stock photos shot by Klaye Morrison.
SkitterPhoto
http://skitterphoto.com/
Find a variety of cc0 royalty free stock photography on SkitterPhoto.
SplitShire
http://www.splitshire.com/
Another free stock photography site that offers high resolution stock photos. They're almost updated on a daily basis, and includes nice free videos in their videos section. The images are clear and sharp.
StartupStock
http://startupstockphotos.com/
A nice array of photos where they seem to target startups. All stock photos found here are cc0.
StreetWill
http://www.streetwill.co/
Find a list of free vintage style stock photography on StreetWill. They have been downloaded over a million times total!
StockImagePoint
http://www.stock-image-point.com/
Another free stock photography site to check out. They have pictures on landscape, cities, animals, architecture, and flowers. Around 20 new images are added on a monthly basis!
StockSnap
https://stocksnap.io/
Find hundreds of high quality stock photos updated weekly.
StokPic
http://stokpic.com/
They're not as popular, but do offer some unique stock images if you dig around. They also have a premium subscription you can join to get additional special images.
Superfamous
https://images.superfamous.com/
Superfamous also offers free photos to download; however, theirs is cc3.0 so you have to give the author credit where credit is due. What makes their images unique is they share them in 1:1 aspect ratio (think Instagram). Most of the stock photos revolves around the theme of landscape shots, with a few aerial views of cities, landscapes, and perhaps planes.
ThePicPac
https://thepicpac.com/
The PicPac is on the more unique side of free stock photography sites as they focus on sharing a bundle of themed photos in downloadable packages for a small price; however, I did say "free stock photography." Allow me to explain, their system involves allowing users like you to choose the price you want to pay. I tested the system by inputing "0", and it worked! Their photos are usually cities, such as a bundle for San Francisco. One package is about 800 Mb.
Unsplash
https://unsplash.com/
Unsplash is one of my favorite sources when looking for HD images that are large in resolution and high quality. Perfect for background images, such as for your desktop or perhaps as a hero image for your website. Unsplash is one of the more popular free stock photo sites on this list. In fact, it is so popular that even the blogging platform GhostJS has a feature built into its editor which allows users to import images from Unsplash itself without any plugins or additional add-ons!